If you remember from our last blog, SEO stands for "search engine optimization." It's essentially the way that you organize your website so you appear higher on the lists of pages on Google, Bing, etc., dependent upon keywords and what the user searches. 
That was a lot, so we're going to break it down for you a bit. There are sub-strategies to SEO and they're all important. 
Create Custom Content
Creating custom content is a must. If your website mirrors another's, you won't stand out on any search engine. By creating custom content to your brand, search engines can find you easier, especially when using keywords. Additionally, this content needs to be updated on a regular basis for search engines to know you're still doing your thing. Otherwise, stale sites go to the bottom of search engine lists. 
Using Keywords on Your Website
Search engines use keywords to develop results for each search. If you're a Restaurant, you would want to use words that set you apart, but explain what you do. If you're a breakfast place, you would want to use breakfast often, but not too often, throughout your site. Many web developing backends (where you develop the site via coding, WYSIWYGs, and so forth), offer SEO analytics to make sure you're not using words too often, or you're hitting a mark with keywords you've chosen. 
Enhance Your Site User Experience
This might seem like a no-brainer, but if consumers of your product or services aren't able to navigate your website or easily find what they're looking for, they will leave. And we don't want that for you. 
Some easy tips and tricks include having a direct link to your contact page or form, having social links readily available, and /or a direct link to an FAQ list that people can easily access.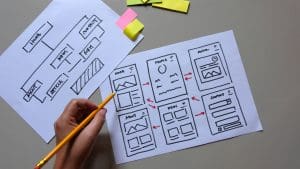 Page Load Speed
If your site loads slowly, consumers are more likely to give up and leave. You want to make sure that your site loads at a decent speed. This means sizing photos and documents down to a web-size and ensuring there aren't too many gadgets and gizmos on your site to slow it down. 
Think of some of your favorite sites – what do you like most about them? Are they clean sites that load quickly? Or do they take a bit to load? Think about your own site – do you think it loads in a timely manner? Are there too many bells and whistles holding it down? There are always ways to improve your site. 
Whew! We know that's a lot of information. If SEO still isn't making sense, shoot us an email! We'd love to chat over the phone, video, or in person to ensure your site is the best it can be.